Build at scale
Schedule on time or recurring webhooks
Cronhooks enables you to invoke your webhooks at any given date time or repeatedly using cron expressions in any timezone and get instant alerts for failures.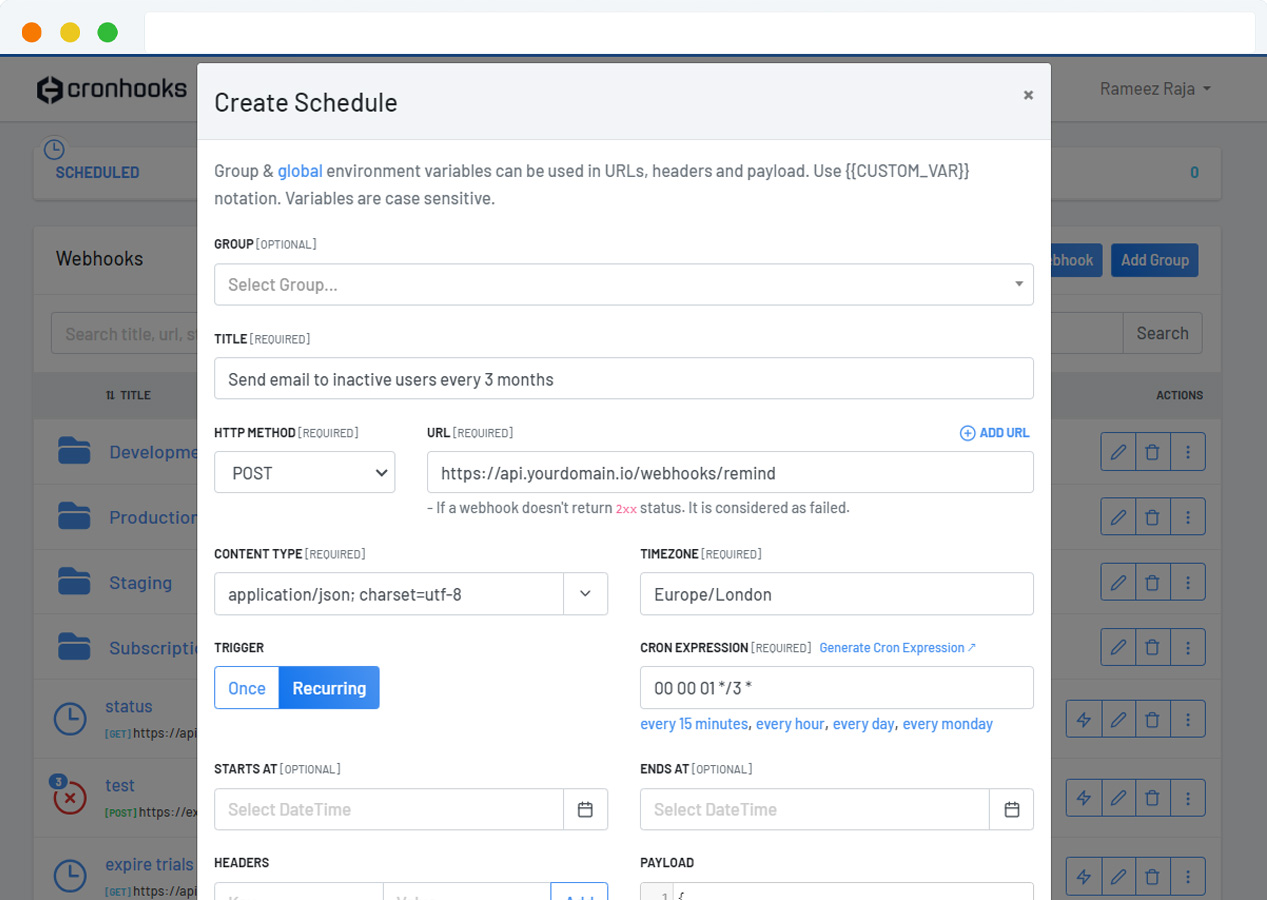 Trusted by the world's most innovative teams
Everything you need for scheduling
Schedule on Time
Your webhooks will be triggered on a specific given date & time.
Recurring
Use the power of cron expressions to invoke your webhooks.
Any Timezone
Invoke your webhooks in timezone agnostic way
REST API
Cronhooks provides rest api for scheduling webhooks from any technology of your choice.
Failure Alerts
Instantly get email and slack notifications when webhook doesn't play nicely.
Security
A signature will be sent to your webhook which you can use to verify authenticity.
Pricing, tailored for your needs
Free
$0 /month
Just for playing around.
5 scheduled webhooks

ad-hoc schedules only

Email failure alerts

Email support

Unlimited team members

48-hour support response time
Get started free
Startup
Most popular
$5 /month
The essentials to provide your best work for clients.
100 scheduled webhooks

ad-hoc & recurring

Unlimited invocations

Email & Slack alerts

Priority email support

Unlimited team members

24-hour support response time
Get started free
Whatever you need
/month
A plan that scales with your rapidly growing business.
ad-hoc & recurring

Unlimited invocations

Email & Slack alerts

Priority email support

Unlimited team members

24-hour support response time
Get started free
15-Days Trial (no credit card required)
When you signup you will be able to create upto 5 ad-hoc & recurring schedules.
See what our customers say
Yoni Lindenfeld
Cronhooks has allowed us to outsource many mechanisms in our product that require triggering different behaviors at specific times. It has proven to be a very reliable and cost effective solution.
Tim Potter
We use Cronhooks to trigger Netlify builds. We switched from Github Actions to Cronhooks for a few reasons: We needed a simple system for managing multiple recurring events, and more importantly, a service that actually triggered the event at the scheduled time. Cronhooks ticked both those boxes and is excellent value for money.
Damien C. Tanner
Cronhooks lets us reliably run repeat jobs without having to setup and manage a custom job scheduler.
Will Swannell
With Cronhooks, we are able to run timezone agnostic schedules at scale with a breeze!
Michael
Cronhooks has been great for our company. It's a service we can count on to verify if our services are running fine and also so call a given URL at a specific time.
Jaffer Syed
Cronhooks, allows us to make precise scheduled events in the easiest way possible without me having to worry about any of the development nuisances that usually come when I try to work with a scheduler.
Jordan
Cronhooks was super easy to setup! Started working right away!
Javier Rivasés
Cronhooks it's and awesome tool to Schedule Jobs or reminders in my company. For now , we're using to send some reminders in our Teams channels to ensure some actions has been completed, but we're planning to move some scheduled tasks to be raised by webhook and fire them using cronhooks.
Lucas Oliveira
Bulls Eyes
Cronhooks was game changer in my business. I'm no-code/tool addicted and I've never seen a better webhook tool than Cronhooks. I already built complete web applications all based on webhooks and it was just possible because of Cronhooks. Simply the best!
Where you can use Cronhooks...
Process recurring payments

Healthchecks for APIs/microservices

Send scheduled alerts, emails, push notifications

Periodically invoke serverless functions

Process netlify builds using webhook for blazing fast content delivery

Schedule messages for Slack, Microsoft Teams and more...
We're here to help
Create a ticket for any issue / feature you want or directly contact on our support email and we'll get back to you as soon as possible.